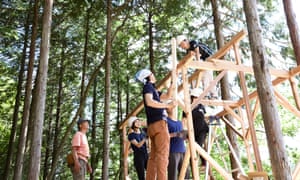 Learn traditional building methods in the Keihoku mountains, Kyoto
Based in the bucolic, mountainous Keihoku area in north-west Kyoto, the Roots sustainability programme offers multi-day educational tours to groups, with an emphasis on connecting to nature, sustainability, and immersion in local culture.
Each bespoke tour is structured around a central project and interspersed with other (optional) experiences such as hiking, rice planting and craft workshop visits. You might, for instance, learn the art of kayabuki (thatching with pampas grass) from an expert, process typhoon-damaged timber in a cedar forest, and then build a treehouse under the guidance of a local lumberjack, carpenter and treehouse "master". These crafts have been given a boost by the fact that traditional Japanese kominka architecture belatedly gained Unesco Intangible Cultural Heritage status in December 2020.
From £914pp from six nights based on a group of 15–24. rootsjourney.jp
Observe the Japanese giant salamander in Nichinan, Tottori
Called Ōsanshōuo, or "giant pepper fish" in its native Japan, the Japanese giant salamander is one of the world's largest amphibians. This aquatic, nocturnal "living fossil" is also in danger of extinction.
On this wildlife conservation experience, guests accompany leading Japanese giant salamander expert Dr Sumio Okada into the forests of Daisen-Oki National Park. Wading knee-deep in crystal-clear rivers, you'll assist in measuring and weighing salamanders in their natural habitat, and help record this data. Data generated helps enrich existing research on Andrias japonicus, and the tour price also includes a donation towards the local giant salamander conservation group.
From £494pp. bushidojapan.com/japanese-giant-salamander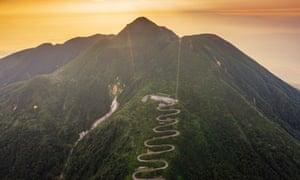 Follow in Basho's footsteps through northern Japan – on two wheels
Put a different spin on haiku poet Basho's narrow road to the deep north by cycling it. On the Trans-Tohoku bike tour operated by Nasu-based Bicycle Tours Japan, guests traverse the 900km route from Tochigi to Aomori over 12 days and 11 nights. Expect few cars, stunning landscapes, daily crash courses in regional cuisine, plenty of sake and hot baths every night.
Though e-bikes are available if required, this is strictly for those with cycling experience, as you'll need to be able to cover 70–110km per day over mountainous terrain. However, a support van means you can travel light and focus on pedalling (and eating) – and even skip some of the steeper hills, if necessary.
To take a different route northward, and see how Honshu's north-eastern coastline is recovering from the effects of the 2011 earthquake and tsunami, you can hike a section – or all, if you have two months to spare – of the Michinoku Coastal Trail. Hefty chunks of the path meander through the Sanriku Fukko (Reconstruction) national park, which was created in 2013 to kickstart ecotourism in the area and was finally opened in 2019. This year marks 10 years since the Great East Japan Earthquake, so it's an especially poignant time to visit the region, which will commemorate the anniversary with a year-long programme of memorial ceremonies.
From £3,193pp for 3 or more participants. bicycle-tours.jp/54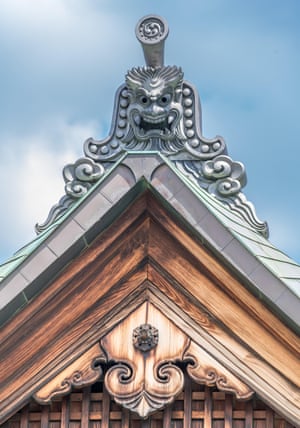 Meet one of the last onigawara roof tile artisans in Sakamoto, Shiga
Shiga prefecture is often overshadowed by neighbouring Kyoto, but the experiences offered by the entirely women-operated Tour du lac Biwa more than hold their own against the historical city. Their small group tours take place around the west side of Lake Biwa, with activities ranging from a traditional tea ceremony to walking in the Hiei mountains with a living Buddha.
A particular highlight is the opportunity to visit one of the last onigawara (demon roof tile) workshops in Japan. You'll gain a deeper appreciation for the sheer labour and artistry involved in these hand-carved creations, and temple and shrine roofs will never look the same again! A must for Japanese architecture lovers.
From £120pp for a group of 2–3. lacbiwa.com
Harvest tea and vegetables at a farmstay in Kawane Honcho, Shizuoka
Nestled in the misty mountains of rural Shizuoka, the tiny agricultural town of Kawane Honcho produces some of Japan's finest green tea. Stay with one of the local farming families and share in their lives: wake up early to harvest tea or bamboo shoots in spring, make your own noodles, or just unwind in the surrounding forests. Whoever you stay with, the food will be exceptional. Don't forget to book a lunch at Acai, a vegan restaurant set in a cosy, gorgeously refurbished farmhouse.
Rates vary by stay and experience. Contact Kawane Green Tourism to book. shizuoka-escape.com
Make washi paper and moss balls in Saji-cho, Tottori
For the average city dweller, few rural homestays get more remote than those in Tottori, most famous for its sand dunes and being the least-populated Japanese prefecture. Learn the ins and outs of country living at one of Saji-cho's 40+ homestays, where you might make your own paper or moss balls, cultivate mushrooms, climb waterfalls, or cook dinner over a wood-fired stove. As a bonus, Tottori is one of the best places in Japan for stargazing.
Rates vary. Contact Goshinosato Saji Regional Council to book. saji-5shi.jp/en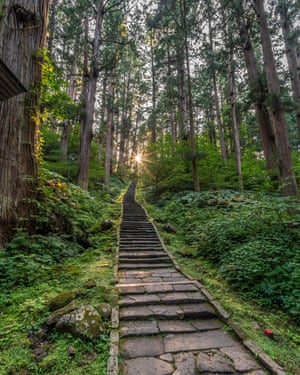 Forage for wild vegetables and cook shojin ryori on Mount Haguro, Yamagata
Though the prevalence of dashi means Japanese cuisine isn't usually vegan-friendly, shojin ryori (Buddhist temple vegetarian cuisine) is a major exception. Let the guides at Yamagata tour specialist Hidden Japan take you on a journey into the forests of Mount Haguro, where you'll first learn to identify and harvest wild mountain vegetables (or mushrooms in autumn) alongside yamabushi monks. Afterwards, head back to Miyatabo Lodge and cook up an elaborate vegan feast.
From £212pp. thehiddenjapan.com
Experience Mount Fuji as sacred cultural heritage in Fujinomiya, Shizuoka
Climbing to the summit of Mount Fuji is a popular travel bucket list activity, as evidenced by the busy trails in summer. But En-Ya Mt. Fuji Ecotours takes a different (and less strenuous) approach by instead encouraging you to see the mountain as a sacred, spiritual site. Guests begin with a shrine visit, followed by a gentle hike to the Hoei crater, before returning to downtown Fujinomiya via the Mount Fuji 5th station.
Staffed entirely by local Fujinomiya residents, En-Ya also runs tours incorporating, variously, cycling through Shiraito Natural Park, tea tasting, sweets-making, kimono rental, and a visit to a traditional sake brewery. Guests staying at their private glamping site Satoyama Vacation, which has a splendid view of Mt. Fuji, get a free tour included with their accommodation fee.
From £128pp, minimum 2 guests. mtfujiecotours.com
Hike through the mountains of Hokkaido
Ramble, scramble, bike or hike the mountains of Japan's northernmost prefecture with the friendly "100% raised in Hokkaido" guides at Adventure Hokkaido, whose commitment to sustainable tourism shines through, particularly in their close relationships with indigenous Ainu groups. You'll experience the great outdoors, but also learn about local ecology, Ainu culture, and Hokkaido's colonial history.
Choose your route according to experience and fitness levels. Inveterate hikers will love the week-long tour around Daisetsuzan National Park; alternatively, the day tour of Mount Arashiyama and Asahikawa Ainu Museum is a perfect blend of history, culture, food and walking.
Rates vary by tour. adventure-hokkaido.com/guided-tours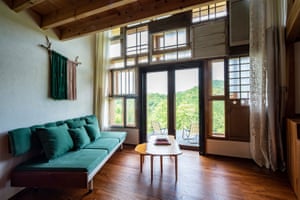 Live the zero-waste life in Kamikatsu, Tokushima
With its forward-looking zero-waste policies, the village of Kamikatsu on Shikoku Island is Japan's poster child for the sustainability movement. Many visit to observe the "gomi station" (the local waste-separation centre), where rubbish is sorted into 45 categories, or check in at zero-waste WHY, where a more formal learning programme is incorporated into your hotel stay.
More immersive still, perhaps, is the Inow programme, on which you'll live like a Kamikatsu local for two weeks. This means recycling like a local, but also volunteering at the gomi station and learning homestyle cooking at the zero-waste business Cafe Polestar. No two programmes are alike; depending on the season and availability, you'll be able to try your hand at indigo-dyeing, tea harvesting and organic farming. Two weeks will zip by in a flash.
From £781pp for 14 days. inowkamikatsu.com
Canoe across Lake Towada in the depths of winter, Aomori
While Japan is most popular as a spring/autumn travel destination, visiting off-peak is one way to help counter the effects of overtourism. Try this alternative to skiing or snowboarding: winter canoeing across a glassy, cobalt blue caldera lake.
Towada Guidehouse Kai operates winter canoeing tours in Towada-Hachimantai National Park's Lake Towada. Experienced professional guides will help you practise the necessary paddling techniques prior to setting off. En route, they'll identify and teach you about surrounding wildlife – black kites, grebes, cormorants – and take you to a cove accessible only by canoe.
From £77pp for a group of 2 or more. Japanese-language website, but an English-speaking guide is available. Contact via email to book. tgkai.jp/index.html
For more Japan-based experiences, itineraries, trips and tips, visit Japan National Tourism Organization: japan.travel