The food culture-wars keep raging. Is organic better? What about sugar? And how happy can we make our chickens?
This week the battle is coming to a head over chocolate milk. U.S. schools supply kids with low-fat, flavored milks in a push to get them drinking the nutrient-rich beverage. But scrutiny has been plaguing the educational institutions, with critics asking whether they're doing more harm than good by handing out the sugary concoctions.
The National Milk Producers Federation and the International Dairy Foods Association are weighing in, issuing a joint statement praising lawmakers for proposing to keep the sweetened beverages in schools after the 2021-2022 year. A group of more than 50 members of the U.S. House of Representatives has urged USDA Secretary Tom Vilsack to address the issue of children not getting enough dairy in their diets.
"If that's something that gets kids into the cafeteria and gets them eating, that's a really important thing," said Liz Accles, executive director of New York-based food access group Community Food Advocates.
The debate could have far-reaching consequences for dairy supply chains. Milk supplied to American schools is a key source of demand for the industry. Last year, consumption got so depressed when schools and restaurants were shuttered that farmers started dumping millions of gallons of milk.
On the other end of the grocery aisle, eggs are also receiving a buzz of attention.
The $6.1 billion U.S. egg industry is making a big bet on what could be its next big thing: climate-friendly eggs.
Producers like Larry Brown and his peers are moving into making eggs from a special type of sustainable farm that can be trumpeted as being better for the planet.
These eggs, which are making their debut now on shelves for as much as $8 a dozen, are still labeled organic and animal-friendly, but they're also from birds that live on farms using regenerative agriculture — special techniques to cultivate rich soils that can trap greenhouse gases. Such eggs could be marketed as helping to fight climate change.
This is the industry's latest push to see how much the sheen of being green will mean to consumers — and how much they're willing to pay for it. A carton of conventional eggs can still be had for less than $1.
—Elizabeth Elkin in New York
Charted Territory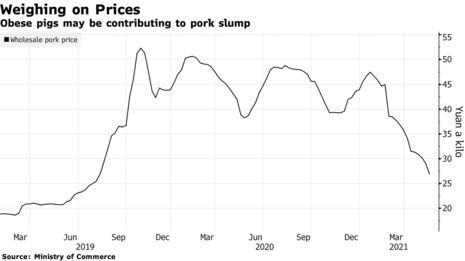 Obese pigs in China are being blamed for worsening a sudden rout in the country's pork prices. Farmers have been fattening hogs since late last year to almost double their normal weight — roughly the size of a pygmy hippo or a female polar bear — in the hope the animals will generate higher returns should prices rebound. Instead, Chinese wholesale pork prices have plunged more than 40% since mid-January.
Today's Must Reads
On the Bloomberg Terminal
Corn pop | The world's most significant agriculture commodity, corn, was one of the best performers on the year in May, but it's rapidly heading the other way — and for good reason, as we see it, Bloomberg Intelligence writes.
Whole hog | Falling pork prices, which may keep a lid on China CPI, along with rising PPI are a winning combination for China stocks, in our view, says Bloomberg Intelligence.
Use the AHOY function to track global commodities trade flows.
Click HERE for automated stories about supply chains.
See BNEF for BloombergNEF's analysis of clean energy, advanced transport, digital industry, innovative materials, and commodities.
Click VRUS on the terminal for news and data on the coronavirus and here for maps and charts.
Like Supply Lines?
Don't keep it to yourself. Colleagues and friends can sign up here. We also publish New Economy Daily, a briefing on the latest in global economics.
For even more: Follow @economics on Twitter and subscribe to Bloomberg.com for unlimited access to trusted, data-driven journalism and gain expert analysis from exclusive subscriber-only newsletters.
How are we doing? We want to hear what you think about this newsletter. Let our trade tsar know.
— With assistance by Zoe Schneeweiss, Leslie Patton, and Kim Chipman