Food Network is perennially popular among foodies and with good reason. It features skilled and charismatic chefs preparing stunningly beautiful dishes that you can almost smell through the screen.
Add in food competitions like the long-time hit Chopped and the recent Supermarket Stakeout and is it any wonder viewers are over the moon in love with this food-centric network?
However, there's a discussion going on at the Reddit Food Network board and it seems some viewers aren't as happy as they once were with the network's offerings. Where are the healthier eating options, they wonder? Mountains of butter and cheese, gallons of cream, every kind of meat you can imagine… Where they ask, are the vegetables?
What happened to the shows featuring lighter, fresher, lower-calorie options that the Food Network used to offer? 
Fats, fats, and even more fats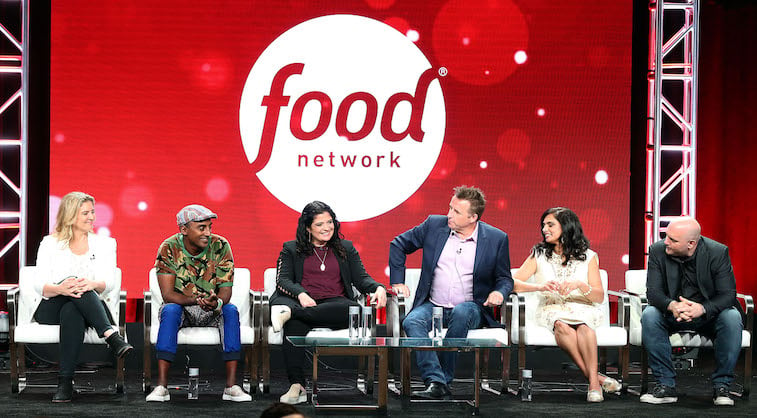 RELATED: Food Network Star Katie Lee's Ex-Husband is Rock Royalty
Reddit users want to know what happened to their favorite network to turn it into this morass of calorie-laden, health-stripping, heart-stopping gluttony! With featured chefs like The Pioneer Woman's Ree Drummond following the motto of "If some is good, tons must be better," is it any wonder that many of the network's fans are appalled at the sheer number of calories and grams of fat involved in most of the dishes being offered today?
Even when fruits and vegetables are part of the equation, they are too often combined with luscious (but rich!) caramel dips or heavy cheese sauces. It seems like letting produce's natural flavors and textures shine doesn't even occur to most of the people involved in producing the network's shows.
The healthy cooking shows that viewers miss
RELATED: Food Network Viewers Want More Replays of Classic Shows, Less Guy Fieri
Some of the network's best healthy cooking shows have unfortunately gone by the wayside. Some of these canceled Food Network shows would probably be viewer favorites today just because of the diversity of healthy cooking styles they represent!
East Meets West featured host Ming Tsai's Asian-European fusion fare.
Jamie Oliver's The Naked Chef focused on producing deliciously simple meals using quality, fresh ingredients. 
Nigella Lawson hosted Nigella Feasts which featured a range of elegant party-ready dishes that were surprisingly easy to prepare.
Healthy Appetite with Ellie Krieger was a show that viewers still miss because it featured healthier recipes that tasted great. 
Rachael Ray's 30-Minute Meals featured quick, easy, and nutritious meals that just about any home cook could manage to produce. 
Everyday Italian featured Giada De Laurentiis's lighter take on traditional Italian family favorites. 
These shows prove that the Food network can produce enticingly healthier cooking shows. The question remaining is whether they will listen to the unhappy viewers like those on the Reddit Food Network board and offer a more diverse menu of cooking shows.
Hunting for those elusive morsels of healthy eating on Food Network
There are still a few shows left that aren't heavy on the fat and calories. The network's popular cooking/talk show The Kitchen is one that immediately comes to mind. The five co-hosts frequently offer up great tasting and good for you recipes like Geoffrey Zakarian's baked kale chips, Marcela Valladolid's Aztec Fruit Bars, or Katie Lee's Grilled Salmon and Escarole with Citrus-Fennel Salad.
With shows like The Kitchen growing in popularity, maybe the network will listen more closely to its viewers and start showcasing healthier eating options. After all, how many more of the unhealthiest possible options, like the burger touted by Diners, Drive-Ins and Dives' host Guy Fieri that was topped with a massive helping of macaroni and cheese and garnished with bacon, do we really need?
Let's hope that our favorite TV food venue will straighten up, smell the root vegetables roasting, and give us more of the kinds of healthy, yet delicious, cooking shows that we're craving.