When Snifters opened at 606 S. 5th St. in 2017, they launched a menu which fused the flavors of Latin cuisine, Southern fare and Soul food into one cohesive tapas menu. 

Starting this week, the fusion vibes are as fierce as ever at the bar, restaurant and night life spot in Walker's Point. But this time, the menu is fusing together two new cuisines Latin and Asian.

Starting Dec. 16 at 11 a.m., guests are invited to experience full-service dining showcasing the flavors of AsianRican Foods, a nascent concept launched this summer by Julie Valcarcel, which has introduced Milwaukee to a unique menu filled with the flavors of Puerto Rico, Latin America and Asia.

Snifters co-owner Julio Maldonado says they've already received positive feedback from a private soft opening event last week, as well as from trial carry-out over the weekend, so he hopes their success at Snifters continues.

"The customers are happy to see this type of food in the trendy Walker's Point," he says. "We shall see how this pans out, but we as Snifters, feel it will do well. Snifters has been established for almost 5 years, and we feel we have a following in our city that will only benefit our new partners."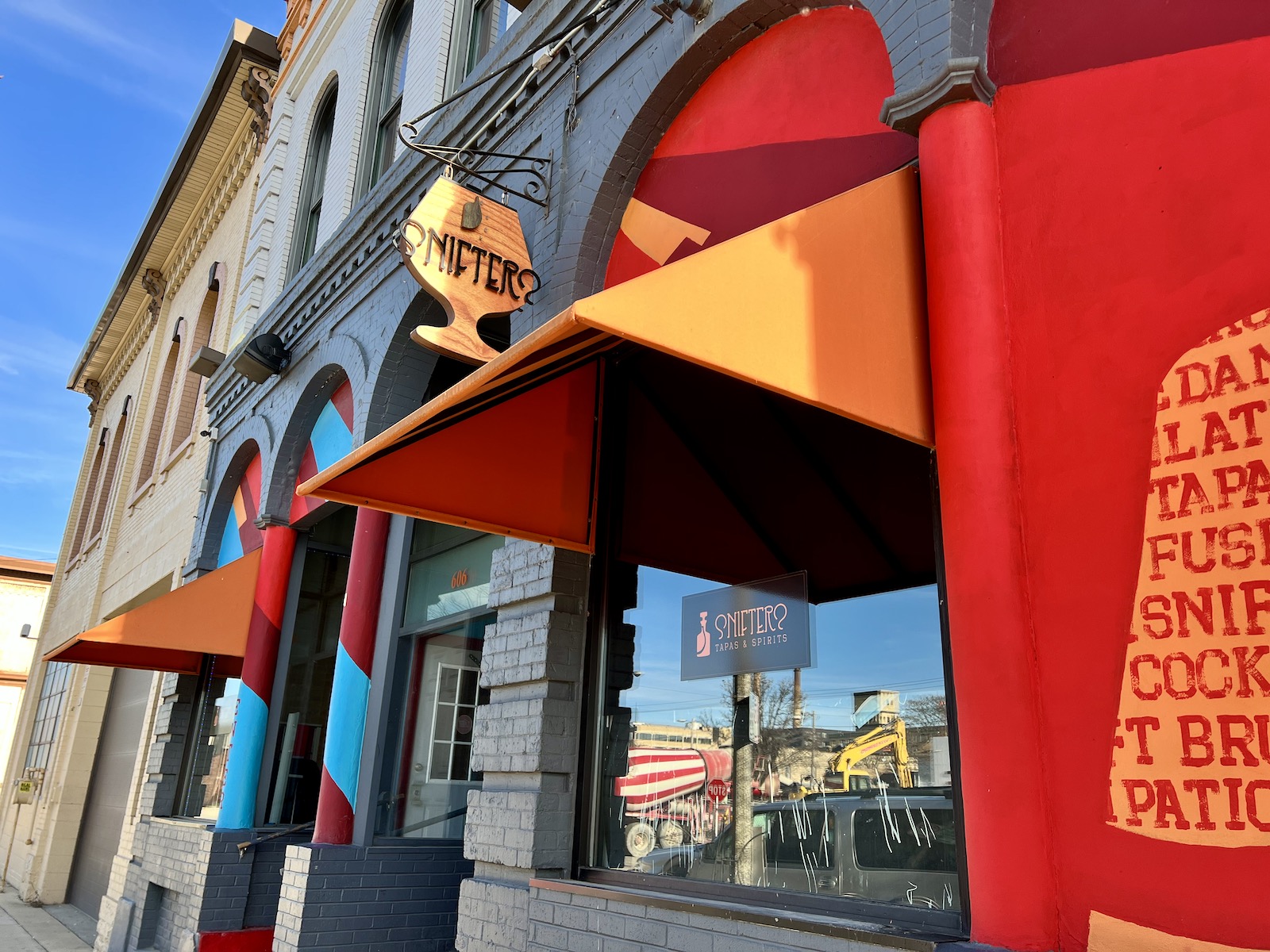 AsianRican Foods owner Julie Valcarcel says she feels like her entire life has led her to the point where she could start her own food business.

"I've been cooking my whole life," she says. "And my goal has always been to make people great food and send them away happy with a full belly. That's what we do at AsianRican Foods."

She says she spent most of her life eating and cooking Lao fare; but things changed when she married her husband, Moses.

"I'm Lao and my husband is Puerto Rican," she says. "I grew up eating traditional Lao food, but after I got married, I started spending more time with my husband's family, and I watched his mother-in-law and his relatives cooking dishes like peril, arroz con gandules and empanadas."
Valcarcel says she learned so much from just watching them, and she started to integrate those Puerto Rican flavors – as well as other Latin-American flavors – into her own cooking, creating a fusion of flavor that she began describing as AsianRican.

"For many years, I worked for a local school district," she says, "And me and my family spent our time volunteering and serving food at community events, nonprofits and churches. During COVID, when I'd drive around and I saw the drive-thrus at restaurants so packed, I wondered: 'Is no one cooking at home?' The mom in me just wanted to be able to feed people the really good food they should be eating." 

So, as summer rolled around, she says she got more serious about finding a way to share her cooking with more people. AsianRican Foods got started as a pop-up shop, which served during the week at O Yeah Chicken and More, 3322 W. Loomis Rd. in Greenfield. 

The pop-ups, which featured a variety of Valcarcel's fusion creations, including her delicious (and meat free) arroz con gandules and arroz chino boricua, a popular Puerto Rican style fried rice that's commonly found in Chinese restaurants on the archipelago.

"I couldn't believe the success that we had serving at O Yeah Chicken during the week," she says, noting that as her customer base grew she began looking for a more permanent location for the business. They found one, but when plans fell through, she says she didn't know what they'd do.

"But that same day, we got a call from Julio Maldonado at Snifters," she says, "Asking if we wanted to take over the food service at Snifters."

Maldonado says he reached out to Valcarcel with the thought that a partnership could be valuable for both businesses.

"Since the pandemic, it has been hard to acquire staff," says Maldonado. "…that goes for many in our industry. So we have had our kitchen closed for some time now.  Instead of losing money not using our kitchen, I thought, let's partner up with AsianRicanFoods and have them take over our menu and kitchen.

"I took this as a blessing in disguise on both ends. We met a few times, discussed the menu, hours, operations and protocols and both felt good about taking this to the next steps."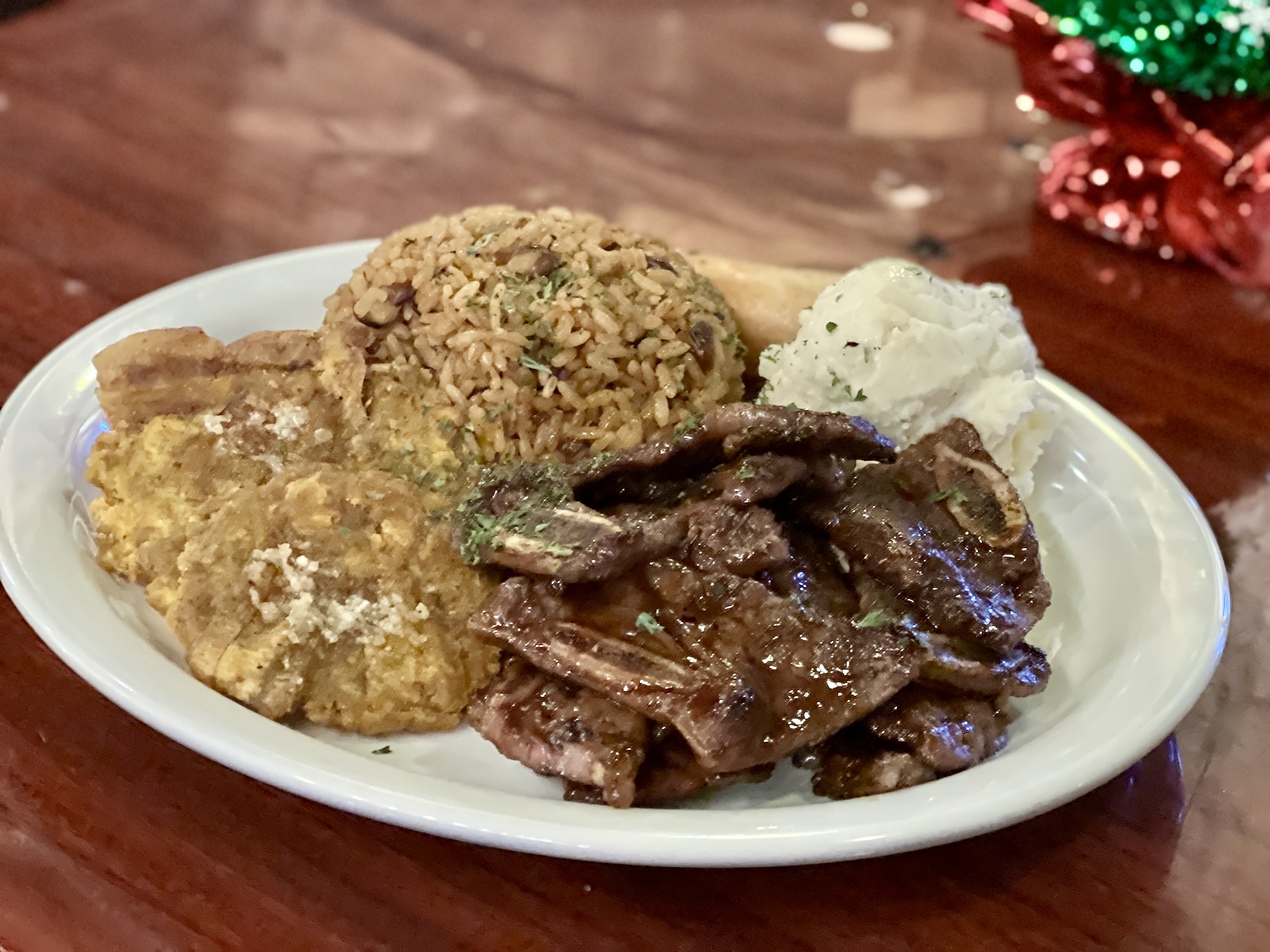 On the AsianRican Foods menu, guests will find a wide variety of dishes, many of which can be customized to suit guests.

"One of the things we've done differently is making our Puerto Rican rice without meat," says Valcarel. "People think it's crazy, but I've worked really hard to create rice that has all the flavor without the meat. That allows us to customize our food and accommodate vegetarians."

Appetizers include offerings like chicken eggrolls ($1.75 each up to a dozen for $15) to empandillas (ground beef and potato, chicken and cheese) and patiellios (pizza) for $3.50 each and tostones (six for $4).

There are also rice bowls including Korean beef shortibs and an eggroll ($13); a teriyaki bowl with rice, vegetables and an egg roll ($12); shrimp pineapple fried rice ($15); pepper steak and white rice ($13) and short ribs stir fry with rice ($13).  Valcarcel says guests can also sub in  arroz con gandules for the white rice, creating even more delicious fusion.

Among their most popular dishes are short ribs served alongside arroz con guandules and a choice of tostones or fries ($13). 

There's also fried chicken with arroz con guandules, served with a choice of tostones or fries ($12); arroz chino boricua (Puerto Rican fried rice with beef sausage and special seasonings) or arroz guandules pinchos (Puerto Rican chicken skewers) served with tostones or papa fritas ($12).

Among new items is fried chicken skin that's dried, crisped in the fryer and seasoned. Guests can order a small portion for $8 or a larger shareable portion for $15.

Valcarcel says she also hopes to take the menu up a notch as they settle in at Snifters, adding items like Chinese barbequed pork and mofongo to the menu, along with "The Trio," a popular early offering featuring teriyaki beef, chicken and shrimp.

Guests can expect occasional special offerings like bowls of soul-filling pho on weekends.
Valcarcel says that, moving forward, AsianRican Foods would love to launch a food truck as well as their own restaurant. 

"Ultimately, my dream is to have our own storefront with an AsianRican Foods sign right above the door," she says with a smile.

In the meantime, Valcarcel says she's more than happy to welcome diners to join them at Snifters.

"Our house has always been that house where everyone is welcome and we never turn anyone away," says Valcarcel. "I love seeing a wide variety of people – from all sorts of cultures – coming together to eat our food. Food unifies people, and that's what we hope to do at Snifters."

AsianRican Foods will be serving at Snifters Thursday through Monday from 11 a.m. to 8 p.m. Both full service dine-in or carry-out are available. AsianRican Foods also offers off-premise catering.

Follow AsianRican Foods on Facebook and Instagram for specials and updates.