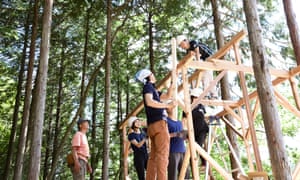 Learn traditional building methods in the Keihoku mountains, Kyoto
Based in the bucolic, mountainous Keihoku area in north-west Kyoto, the Roots sustainability programme offers multi-day educational tours to groups, with an emphasis on connecting to nature, sustainability, and immersion in local culture.
Each bespoke tour is structured around a central project and interspersed with other (optional) experiences such as hiking, rice planting and craft workshop visits. You might, for instance, learn the art of kayabuki (thatching with pampas grass) from an expert, process typhoon-damaged timber in a cedar forest, and then build a treehouse under the guidance of a local lumberjack, carpenter and treehouse "master". These crafts have been given a boost by the fact that traditional Japanese kominka architecture belatedly gained Unesco Intangible Cultural Heritage status in December 2020.
From £914pp from six nights based on a group
…
Read More